Sundecks of cruise ships are one of the cruisers' draws. That area of the cruise ships used mostly for sunbathing. These days however, sundecks go beyond just sunbathing.
These days, swimming pools with cramped pool sides on cruisers' sun deck that used to center on biggest belly flops and hairy chests are gone with the propping up of innovative pools, gourmet restaurants, recreational activities and real fauna and flora on sundecks. They are all different, so pick your choice before booking on a cruise.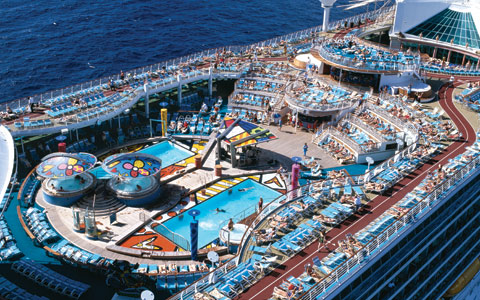 For best activities – Royal Caribbean
Pioneering daring recreational options on cruisers is the Royal Caribbean. It added surf simulators, rock climbing and upped the ante with its most recent, and the largest in the world Allure of the Seas and Oasis of the Seas. These Royal Caribbean cruisers have sports pools too for volleyball and water jousting, a zip line, zero-entry pool that are all meant to duplicate ground beach ambience. If you feel like doing nothing at all, simply head to the adult-only solarium area where you can find hammocks gently swinging in the breeze.
For best adult-only sundeck - Princess Cruises
In the past, when cruising are usually for senior travelers only, there really was no need for sundeck exclusive for adults as most were practically kid-free. However, cruising these days has become a famous family vacation option, it's kind of difficult to find a pool that does not contain young ones. Princess Cruises created The Sanctuary, which is now available on most of the fleet's cruise ships. It is a tranquil, shaded area on a top deck which features chaises, calming tune-loaded iPods and waiter service for drinks and food.
For best all-weather swimming – MSC Cruises
The Splendida and Fantasia of MSC Cruises have huge airy indoor pool complex with retractable glass roof that opens in summer and closes in winter. While a lot of cruise ships have retractable roofs, MSC's cheerful, sometimes chaotic and convivial feel that ensure activities, rain or shine make it special. Decors are jazzy and since these vessels appeals mostly to Europeans, there is a definite foreign vibe. As Splendida and Fantasia cruise out of Italy or Mediterranean, their roofs get workout.
For best luxury sundeck - Crystal Cruises
Pools on luxury lines are typically more limited than their bigger cruise sisters because of their smaller size. Symphony and Serenity of Crystal Cruises are among the biggest luxury cruise ships which feature a hot South Beach ambience with the basics – space for plenty of tables, wicker armchairs plus loveseats for repose. If these do not amuse the playful you, Crystal is one of the few lines that offer paddle tennis for the sporty soul.
For best onboard "park" – Celebrity Cruises
Celebrity Cruises newest quartet beauties – Eclipse, Solstice, Silhouette and Equinox, the Lawn Club is a green lovely grassy expanse near the main pool of the ship. Come over here to simply spread out your towel for sunbathing, have picnics, listen to music or play croquet or bocce. In port, birds also go to the Lawn which just adds to its park-like feel and their tweets and chirps are a nice musical touch.
For best spa pool - Cunard
Queen Mary 2 of Cunard's spa pool may have a downside by being in the interior with no window access, such also is oddly its upside. It is a serene, nicely-lit area open only to spa goers (in most cruise ships, spa pools are open to all). Thus, it definitely radiates a type of serenity spa goers expect. It also is handily located to the Finnish sauna, massage and steam rooms.
For best sundeck food - Oceania Cruises
Oceana Cruises – a runaway winner in the awards given by Editor's Picks of Cruise Critics for everything that is food-related, does not just drop its quality when it comes to serving food on the pool deck. Its Waves Grill that is pool-adjacent features turf and surf, ahi, decadent Q-Bahan and Kobe burgers. Oceania's Q-Bahn is a marinated pork shoulder that is slow roasted and on crispy toasted baguette. This one is hardest to resist - Parmesan fries that are truffle-dusted.
For the best waterpark – Disney Cruises
Cruise lines such as Carnival, Royal Caribbean and Norwegian have created splashy water parks with tubular slides but Disney Dream's AquaDuck water coaster gives Disney the edge. The AquaDuck is an acrylic transparent tubes spanning four decks and at one point, swings out 13 feet above the side with 150-foot drop to the sea.